Hi ladies,
I wanted to do a "what's in bag " tag a long time ago , better late than never here it is!!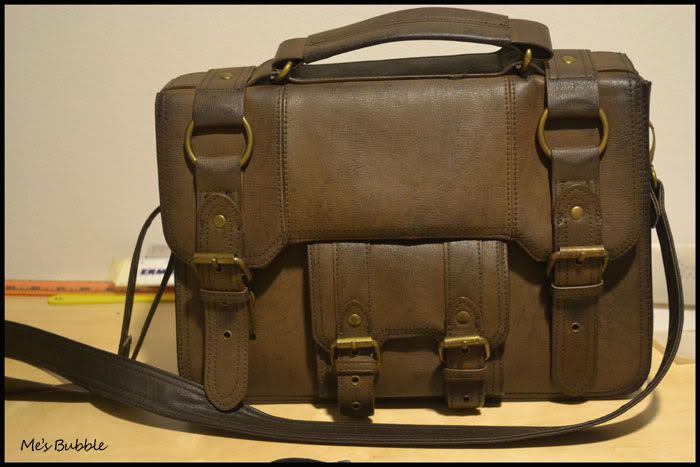 So this is my all time favorite bag , it's a vintagey looking hard leather satchel from
Warehouse
. The size of this bag is just perfect and its beautiful neutral color fits all my outfits. (almost all!)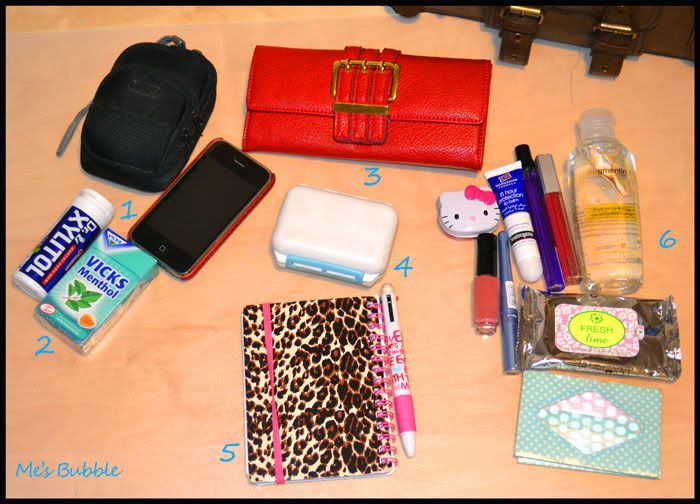 And this is the essentials that i a always carry with me everywhere.
My Iphone And D-camera (panasonic Lumix).
Shewing gum and mints.
My purse.(life style)

My medicines box.(Daiso Japanese store)
A notebook (i love animal prints!!)
Beauty essentials: lip protection (Neutrogena) , lip balm (Hello Kitty for H&M),Lip Gloss(wet and wild), Blueberry Perfume stick (Sephora), Liquid eye liner(Nivea),nail polish(can't remember!) , wet wipes (H&M), Bloating paper (Daiso Japanese store) and the most important thing :a hand sanitizer.
And that it!!
I tag all the beauty bloggers who visit my blog to do this tag , that i think is very fun and interesting!

Thanks for reading.

Peace.
Me's Bubble.