Hello Ladies,
I hope you're having a great -beginning of- Summer..
Summer for me is the beach ,a warm sun (HOT!), tropical smells , a great book...
So yesterday i went for a summer shopping , and i was awesome because(lucky me!) i found all the shops having huge sales , even bookshops!! So i got what what i needed!
now i'm gonna talk to you about what i bought from Bath & Body works.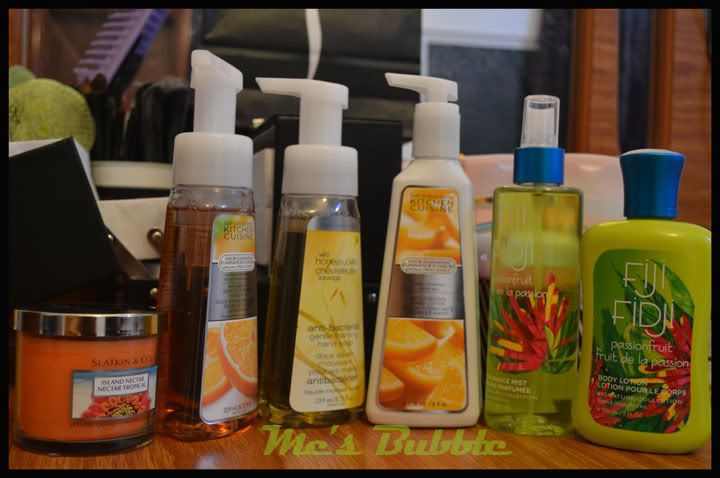 Family picture !
first the candle!
It's a "Island Nectar" scented candle and OMG it smells sooooooo nice that i wanna eat it!!
i still haven't used it because I'm afraid of ruining it!!!
These are anti-Bacterial hand washes and moisturizer.
These are definitely the best hand washes i ever used . i know it's just had washes but i love them so much because the smell amazingly and their smell is so strong that it last in my bathroom ..!!
My favorite body lotion and mist evaaaaa!!!
If you're a 'victoria's secret' products lover , this wil make you forget about it!!
it smells 100 times better , last soooooo long and it smells sooooo yummy that i want to taste it!!!
This set is calles 'FIJI FIDJI' and it smells tropically fruity!! perfect for summer!!
I hope you like this haul/review.
Peace.
Me's Bubble.